Today, we are working on another piano that was damaged by super-storm Sandy. This one is a Steinway Model L with some pretty extensive damage. Here are some pictures of how the piano looks right now. We will continue to update this blog with pictures as we fix it up.
As you can see here, the sides of the piano have some discoloration from the water damage. Right now, we're in the process of sanding it down. After that, we'll blend, prime, and respray in a satin laquer finish.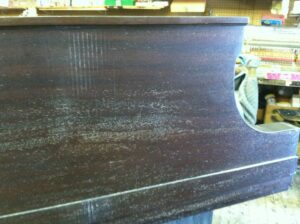 The frame and the soundboard have a whole lot of gunk on them. This morning, I scrubbed them both down and made them nice and shiny. Tomorrow, we will detail them. (this picture is pre-scrub)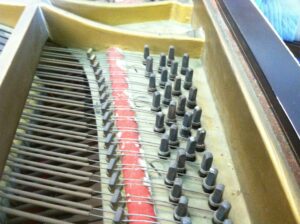 The lid in these pictures is currently in the process of being sanded down. We'll be giving it a great new finish soon.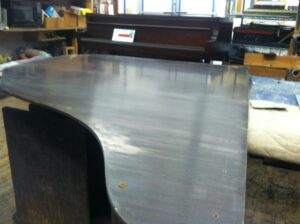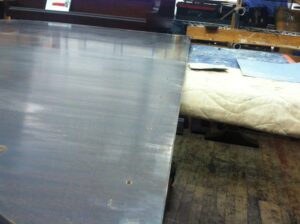 The cheeks are in pretty rough shape. The veneer has been chipped and was coming off a little bit. In these first two pictures you can see what the cheeks looked like when we got the piano.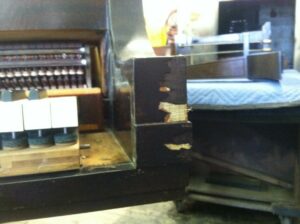 Since then, we've stripped off the veneer evenly to make it easier to put more on and make it look good. Here is what the cheeks look like after having done that.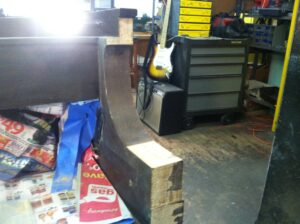 Soon, we will attach new veneer and blend it.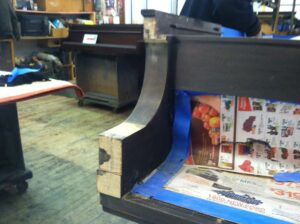 -Update-
Ok, so we've got the new veneer glued on and we've sanded it down to make it even.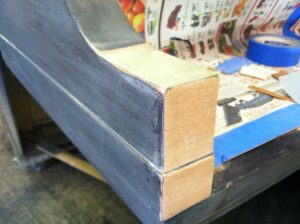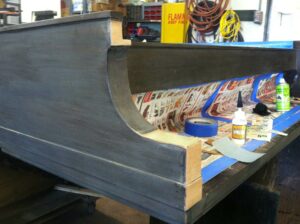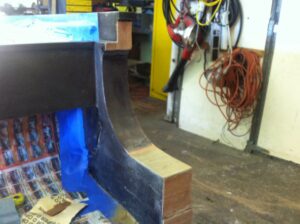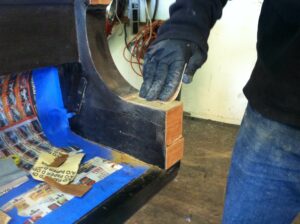 The next step is painting. Once everything is done, the former imperfections in the cheeks will be hardly noticeable. Let us know what you think in the comments section and check out all of our before and afters here.
-Update-
It's time to paint! We separate each individual piece of the piano, shine up the brass parts, and give everything a great new paint-job. Here's Paul Simone spraying the log. More pictures to come.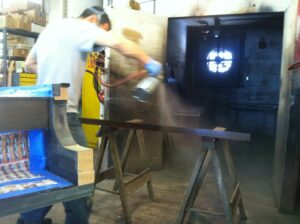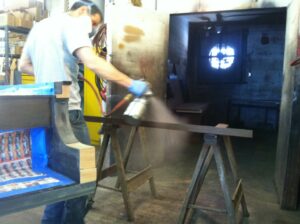 -Update-
Here is what the cheeks look like with the primer coat on. Huge improvement, right? We'll be applying about four more coats (lacquer) and then we will have a finished product.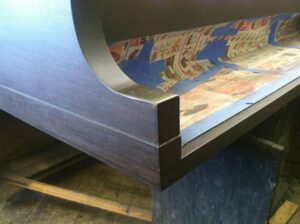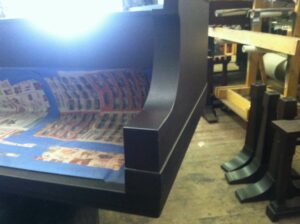 If you're interested in even more Piano Repairs, check out some of these links: