Today in the shop of Vienna Piano, we're fixing up a couple of pianos that are in rough shape. First on the list is this Winter & Company Spinet upright.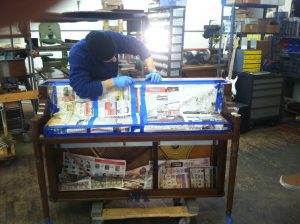 This upright has sustained substantial water damage from super-storm sandy. When it got to us, the kick board had a line on it at which the water level rose to. The wood under that water level had curled upward after the piano was saved from the water. Since its arrival to Vienna Piano, we've re-glued the curling veneer, put bondo in the nicks, sanded everything even, and chemically stripped the paint to get it ready for its make-over.
In this picture you can almost see the line where the water was at, but once this kick board has a new paint job, that line will be un-noticeable. When all of our work is finished, this piano will be as good as new with a beautiful medium brown satin walnut finish.
-Update 3/3/14-
The Winter & Company Spinet is officially complete. Here is a picture of the finished product as well as a close up of the kick board in the previous photo. Tell us what you think in the comments; We would really appreciate the feedback.
A message from a satisfied customer:
"I am so pleased with the restoration you and your staff did on my Winter piano which went through Superstorm Sandy with severe damage. Everyone who has seen it is amazed at the results! Thank you so much for your expert repair, both to the cabinet and to the mechanics of the piano. Again, thanks for restoring the piano. It is the centerpiece of our living room again!"
–Barbara Hardman – Tom's River, NJ
Next on the list is the Kohler & Campbell honey walnut baby grand that you can see in the image at the top. In that picture and in this one, an employee cleans and polishes the brass and the strings with steel wool.
When all is said and done, this baby grand will have a completely restored cabinet, a repaired and regulated action, and a proper tuning. We'll keep you posted on the progress of these beauties right here on this blog post as we finish them up!
-Update 3/20/14-
This Kohler & Campbell is ready to go. Let us know what you think.