We are Registered with the Division of Consumer Affairs
Licence: NJPM000600
US DOT 1284822
We have been moving pianos for local families, professionals, and institutions for over 35 years. We move only pianos. We are fully insured and registered with the Division of Consumer Affairs.
Regular moving companies don't possess the knowledge and experience necessary to safely and properly transport a piano (especially a grand piano). At Vienna Piano our specialized equipment and foolproof protection methods ensure that your piano gets to its destination damage-free.
Moving out of your home can be a nerve-racking process sometimes. Any rational person might get nervous when it comes to entrusting their valuable and fragile possessions to strangers with big trucks. When it comes to picking things up and putting them down somewhere else, you don't think that the process is all that specialized or complicated. That assumption could not be farther from the truth, especially when it comes to pianos.
Not only do we go to great lengths to protect your piano while we are moving it, but we make sure that we protect your floors and home as well. When you choose Vienna Piano as your piano moving service, you can feel safe knowing that your piano, your door frames, and your floors are all in good hands. Now of course nobody's perfect, and that's why we are 100% insured!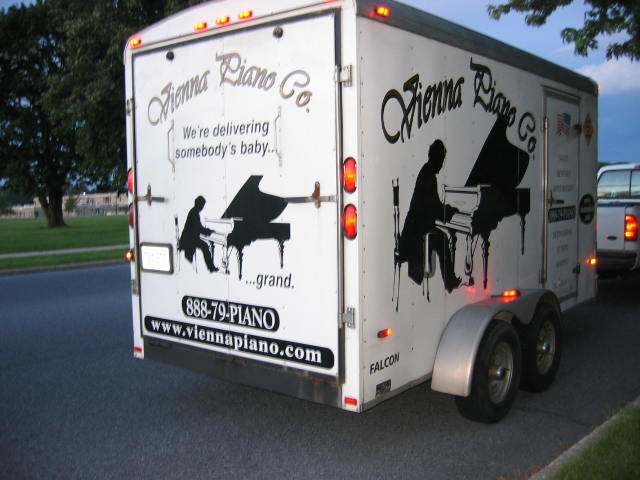 Do you have steps? No problem! Just let us know how many and where and we'll be prepared to handle them. When it comes to moving, we know what we're doing and we're good at it. We've been moving pianos for years. If you have any questions, give us a call: (908)-482-1628.
If you want to read more blogs about piano moving, check out some of these links:
Local Piano Moving
The major difference between Vienna Piano Company and other piano movers in New Jersey is our owner, Paul Simone, is on every move. Paul's 35+ years of expertise enables him to assess your piano and give you information that may be important and your piano. Put Paul's experience to work for you.
As Vienna Piano grew I realized I enjoyed being on the road. Delivering pianos that we restore, sell, or just move for our customers allows me to stay in touch with them and get feedback for improvement.
Long Distance Piano Moving
Here's how it works:
I pick the piano up in the NY/NJ/PA/CT area. I have Keyboard Carriage (they are a Piano Moving service that work for piano stores and piano movers only) pick it up from me and deliver it to a piano mover that I either know already, or vet myself before using them. If I don't know a piano mover in that area I call piano tuners first and get recommendations. It works well. I do it about once a month.
The window for pick up in New Jersey is about a week and the window for delivery is four to six weeks.
Fill out the form below to request a piano move
Piano Moving Testimonials
Rutgers University has had numerous pianos rebuilt, refinished, stored and moved by Vienna Piano. Their attention to detail and commitment to quality is greatly appreciated.
Paul has moved and stored many pianos for my clients, over the past 25 years. I've always gotten excellent feedback from them. I'll continue to recommend him.