Piano Storage and Moving Concerns
Here are the 5 main concerns we hear from our customers about piano moving and piano storage (with answers):
Is my piano going to a place that only stores pianos?
Yes, we have been storing grand pianos and upright pianos at this facility for 32 years.
Is it insured?
We are insured, licensed and inspected by the NJ Division of Consumer Affairs.
Will it be moved by a professional piano mover?
We do not subcontract our piano moving to any outside moving companies. Our owner is on site for every move, except out of state moves.
Will it be affordable?
Our current storage rate is $75.00 per month.
Will it be kept safe, in climate controlled conditions?
We have strict humidity and temperature control.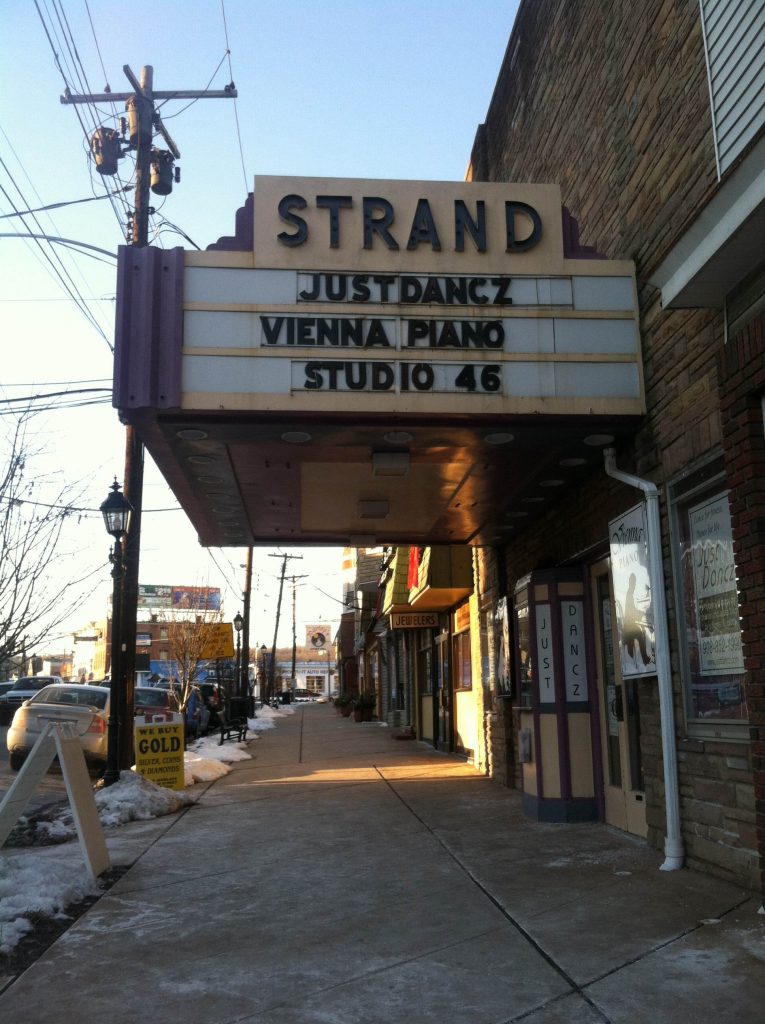 Our Piano Storage Facility
We are located at 181 Main St. Hackettstown, NJ. We redesigned and restored our building in 1987 for piano sales, repairs, piano moving and piano storage. For the past 32 years, we've done just that. Over the years, we've made major improvements to our humidity and temperature control system for our storage space. We restore and sell Steinway pianos, as well as other manufacturers. We are tuners and piano restoration specialists. You are welcome to visit us for a tour by appointment.
Insured and Registered
We are fully insured above the State minimum requirements. We are also licensed by the NJ Division of Consumer Affairs. License # 39PC00060001. All NJ piano moving services and storage services are required to be licensed.
Any storage facility you use should be willing to give you their state license number.
Our facility is inspected and we must show proof of insurance yearly in order to renew our license.
All moving and storage policies can be found in our tariff. The NJ Division of Consumer Affairs was created to protect consumers from uninsured movers and storage facilities. It also saves filed complaints against all public movers in NJ.
Professional Piano Movers
We have been piano movers for over 30 years. We always do a full written inspection of your piano, with you present, before we bring it into storage. We do the same inspection, with you, upon return.
The owner, Paul Simone, is on every move. He is not always on long distance moves – outside of NJ, NY, CT or PA.
Our move rates vary, depending on your location, the type and size of your piano and the number of stairs in your home. Call 908-482-1628 or click the button below for a quote.
Piano Storage Rates
Our current storage rate is $75.00 per month. The cost is the same for baby grand pianos, grand pianos and upright pianos.
Payment Policy
Payment for the move is required at the time of pickup. You are then billed by email or postal mail every 3 months for continued storage. Payment for the return move is due once the piano is in your home and you are fully satisfied.
Controlled Temperature and Humidity
A safe, long term humidity level is between 38% and 52%, relative humidity. A safe long term temperature range is between 50 and 70 degrees Fahrenheit. These are the ranges we maintain in our facility.
Proper piano storage is important to the well-being and longevity of the piano. To ensure a long life, an instrument must be stored in a temperature and humidity controlled environment.
Pianos are affected by changes in humidity levels. If you've ever seen your wood floor swell and buckle in the summer or crack wide open in the winter, you know what we're talking about. The swelling is more likely to happen in homes where folks don't air condition in the summer. The wood absorbs moisture from the air and expands. As two pieces of wood expand into each other they have nowhere to go but up, so they buckle.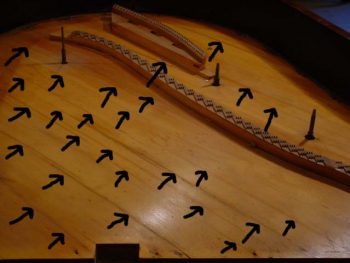 A soundboard is similar to a wood floor. It's made up of long pieces of spruce that are butted up against each other and glued. When these pieces of spruce absorb water they begin to swell and press up against each other and they begin to buckle. These buckled areas are called pressure ridges. Grand piano soundboards are affected more because they are more exposed than upright piano soundboards.
Dryness creates the opposite problem. As moisture leaves the wood, it shrinks. So those butt joints begin to open up. It looks like the soundboard has cracked, but in reality the joints have separated. As the soundboard continues to shrink, cracks will also form along the grain lines of the wood.
A piano that's kept warm and dry in the winter and warm and moist in the summer, gets the most stress.
The Perfect Piano Storage Conditions
It's generally agreed upon that 45% relative humidity is the perfect humidity for musical instruments.
A reasonable humidity range is between 38% to 52%. Keep in mind, a minimal amount of fluctuation in the humidity level is what you want to strive for. Compare the wood in your piano to an elastic band. Each time you stretch it and let it contract, it becomes less resilient.
I've seen pianos that have been around for 50 years, where the humidity levels fluctuate between 25% and 100%. These pianos are still functional, but they often have issues that require repairs. If you want to protect your investment and keep your piano performing at a high-level for many years, you need to keep the humidity levels in the 38% to 52% range.
A word about public storage units:
Public storage units are not recommended for long term piano storage. If your piano is only going to be in a storage space for short term storage – a month or two, in the late spring or early summer, you shouldn't have a problem. Pianos can handle fluctuations for the short term. The fluctuations in humidity over the course of a year in a public storage unit are not acceptable if you want to protect your investment.
Keep Your Piano Healthy When Not In Storage
Get a hygrometer. It measures humidity. They can be purchased at home improvement centers or garden supply stores. They are in the $20 range and they measure humidity. Most hygrometers today are digital, have a thermometer and a memory. This will enable you can keep track of temperature and humidity over a long period of time.
If the humidity levels fluctuate widely, out of the 40-50% range, you can control the humidity in the house with a humidifier or air conditioner. If you have an HVAC, forced hot air system, there are a number of manufacturers of aftermarket humidity systems that can be installed by an HVAC professional.
You can also purchase a humidity control system for the piano. The industry leader in this technology is Damp-Chaser Corporation. Piano tuners highly recommend these systems.
Humidity control is so important to the long term health of pianos. Stabilize your humidity and gain peace of mind.
Piano Storage Testimonials
Paul, it has been a pleasure dealing with Vienna Piano Co. Thanks for storing our piano and taking such good care it.
I was a little nervous about storing my piano anywhere. You made the experience hassle free and delivered it back to me in excellent condition. Thank you!
Rutgers University has had numerous pianos rebuilt, refinished, stored and moved by Vienna Piano. Their attention to detail and commitment to quality is greatly appreciated.
Paul,
Thanks for your professionalism over the years while moving, repairing and storing pianos for us, at Astrocare Fire and Water Restoration. We appreciate your service.
Keep up the good work.
Vienna Piano Co. moved, stored and delivered my piano back to me. They did a great job and I was very happy with the service.
Paul has moved and stored many pianos for my clients, over the past 25 years. I've always gotten excellent feedback from them. I'll continue to recommend him.
Piano Storage Info and Scheduling
Please call us at 908-482-1628 or fill out the form below to schedule your piano pick up.